Charleston County is spreading a road treatment that actually reduces heat and air pollution | News
Charleston County is expanding the use of a road treatment that's believed to reduce air pollution, limit the "heat island" effect that raises evening temperatures and even help decompose microplastics.
That may sound like a lot for one spray-on road treatment to accomplish but the county and also the city of Greenville each did pilot programs during the past two years and both say testing by Texas A&M University's Transportation Institute validated the results.
"Charleston County is at the forefront of this," said county Pavement Manager Mackenzie Kelley.
The county was already treating roads with a product called Reclamite, which extends the life of pavement. It sort of does for pavement what lotions do for skin — soaks in and reduces dryness.
But the additive also broadens the viability of a road.
"With each treatment we're able to extend the life of the road by five years," Kelley said. That's a big deal because resurfacing a road costs $244,000 per mile, she said.
What's new is a product called PlusTi that has the features of Reclamite combined with titanium dioxide. It costs $21,000 per mile and "it's a no-brainer, really," Kelley said.
It's the the TiO2 in PlusTi — titanium dioxide — that tackles air pollution, microplastics and the heat island effect. The photosensitive material, activated by sunlight, breaks down nitrogen oxides from tailpipe emissions, converting the smog pollutant into nitrate salts that are consumed by plants.
"We want to stop it close to the road where the pollution is and basically convert it to a nitrate salt that's heavier than air and falls to the ground," said Ken Holten, technical consultant to Pavement Technology Inc, which sells PlusTi. 
Analysis of core samples from roads treated by Charleston County and the city of Greenville show that nitrogen oxides were substantially reduced — by between 27 and 44 percent in Greenville's case.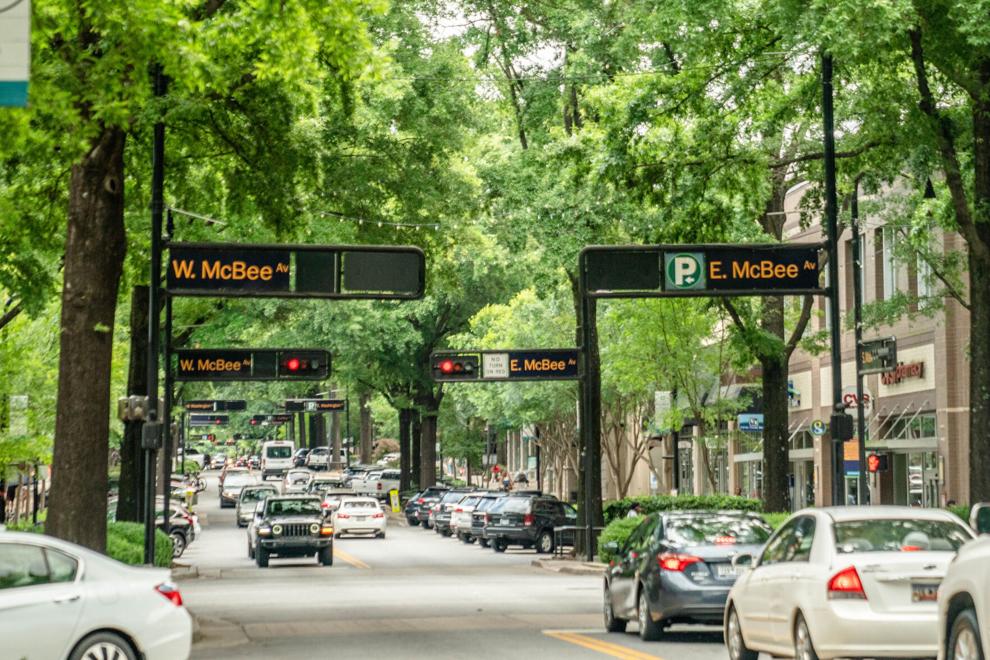 "We are planning to incorporate this treatment into our paving management program in the future," said Greenville spokeswoman Beth Brotherton.
Greenville applied a pavement rejuvenator with titanium dioxide in 2021 along Main Street, the city's busy commercial strip that becomes a farmer's market on Saturdays from May through October. Charleston County tested the treatment in Neck Area neighborhoods that sit very close to Interstate 26: Rosemont and Union Heights.
Air pollution was the focus of the testing but the titanium dioxide treatment also reduces the road temperature (titanium dioxide is also in sunscreens). That tamps down the heat island effect where heavily-paved areas are warmer at night.
"We know the heat isn't penetrating as deep into the roadway so it doesn't have as much heat to lose at night," Holten said.
The treatment is sprayed on wet and goes on as a yellowish-white liquid, but the color fades away as it soaks into pavement.
Rosemont Neighborhood Council President Nancy Button said the community was pleased that the county repaved the main streets there in the summer of 2021 but said she wasn't aware of the road treatment and hadn't noticed the streets being cooler.
Skip Mikell in Union Heights said the same, though he'd be interested in seeing the test results.
Pavement Technology claims a mile of treated road can remove as much air pollution as 20 acres of trees, offsetting the carbon pollution of up to 375 autos yearly. That makes the road treatment a carbon-capture technology, in addition to its other reported benefits.
The Lowcountry Alliance for Model Communities, a North Charleston nonprofit group focused on environmental justice and other community issues, hasn't studied the road treatment but LAMC President Omar Muhammad said reducing pollution and heat in lower-income communities is a positive.
"That would definitely be beneficial, especially for urban neighborhoods that lack trees," he said.
One more thing the road treatment is credited with is breaking down microplastics that are shed by auto tires and brake pads.
Those microplastics aren't as large as the rice-sized "nurdles" that washed up on Charleston-area beaches in 2019, leading to a $1 million settlement from the transporting company Frontier Logistics. But the materials shed by auto tires and brakes are one of the largest contributors of microplastics in coastal waters.
A Texas A&M study found that "applications with TiO2 provide a solution to this growing issue." What happens, the study found, is that the interaction of the titanium dioxide treatment and sunlight interacts with microplastics to turn most of their volume into carbonate and water "removing the airborne and estuarial threats."
Charleston Waterkeeper Andrew Wunderley said he was unfamiliar with the product, but it could be beneficial if it works as promised.
Going forward, Charleston County's latest road plan calls for treating 306 roads with asphalt rejuvenator, and treating 31 roads in North Charleston and on the Charleston peninsula with the PlusTi product.
"The roads getting Plus Ti were all recently resurfaced, and are along interstates or busy roads," Kelley said.
Read More: Charleston County is spreading a road treatment that actually reduces heat and air pollution | News

2023-01-22 08:00:00